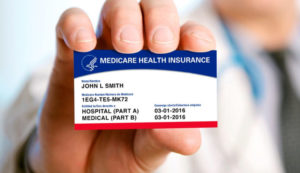 2024 Medicare Open Enrollment runs from October 15th to December 7th 2024.
Click to Compare and Buy Medicare Part D and Medicare Advantage plans for 2024
Do you find Medicare confusing?  Our local agents are here to help make things simple.
Getting close to turning age 65? If so, now is the time to call our agency for an appointment to discuss your Medicare insurance options in Ohio.
We represent many companies offering:
Medicare Supplement Plans
Medicare Advantage Plans
Part D Prescription Drug Plans
It's very important to understand the differences of these plans:  We have "real-live" local agents ready to help you understand your options.  Don't trust this important decision with a door to door sales rep representing only one company or a faceless call center employee out of state.
4 BENEFITS OF WORKING WITH A LOCAL AGENT 
Knowledge of many plans:  We represent many Medicare Plans.  Our knowledge of many plans can help you save much time researching plans on your own.  We specialize in listening to you and recommending plans that best match what's most important to YOU.
Provider Lookup:  We help YOU find a plan that covers the doctors and hospitals most important to YOU.
Medication lookup and cost comparison: We can help you find a Part D drug plan that will save you the most at the pharmacy of YOUR choice based upon your medication list.
No fees or additional costs to you:  As agents we are compensated in the form of commissions by the Medicare Plan if you enroll.  No additional cost to YOU.
Call to schedule an appointment today at 419-447-9900
Medicare Supplement Plans
Medigap insurance covers some, or all of the cost, which Medicare does not cover (20%). Medigap Insurance is available to everyone in the country, age 65 or older, whom have Medicare Parts A and B. Medicare Supplement Plans are accepted by any Doctor in the United States who accepts Medicare patients. Medicare Supplement Plans are guaranteed issue at age 65, or when you enroll in Medicare Part B, regardless of pre-existing conditions.
Medigap Plans are also guaranteed renewable for life, as long as you pay your Medicare Supplement Plan premium. They are NOT guaranteed renewable at the SAME premium every year. Medigap premiums adjust annually.
At age 65, you are provided an opportunity to select any Medicare Supplement plan policy from ANY insurance company, and since it is guaranteed renewable, you can keep that plan for the rest of your life.
Medicare Supplement Plan G is the exact same Plan F but doesn't pay for Part B deductible ($240 for 2024)  Plan F will no longer be available to new Medicare members starting Jan 1, 2020.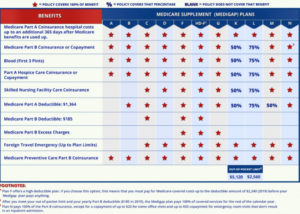 Medicare Supplement Plans are ideal for clients living outside of major metro areas since they offer flexibility to obtain medical care anywhere in the country, as opposed to being restricted to only local doctors and hospitals.
Medicare Supplements are also very popular with "snowbirds" because they receive care in different parts of the country throughout the year, and are accepted by any doctor that accepts Medicare.
Medicare 101 for 2024
Medicare is funded by deductions from your paycheck (just like Social Security), plus Part B Premium,
Part B is $174.70 per month for those new Medicare in 2024, with an Adjusted Income of $103,000 or less, per year, or $206,000 per year, for a couple.
Must have Medicare Part A and Part B to enroll in any Medicare Supplement Plan or Medicare Advantage Plan.
Medicare basically is an 80/20 Plan, Medicare pays 80%, and you are responsible for the remaining 20% co-insurance, and deductibles.
Medicare Part B deductible is $240 in 2024.
If you are receiving Social Security benefits prior to Age 65, you will automatically be enrolled in Medicare Parts A and B, when you turn age 65. Your Part B premium will be deducted from your Social Security benefits automatically, and therefore you will not need to take any action to enroll in Medicare Parts A and B.
When you turn Age 65, you have a seven-month initial enrollment period.
For Example: You turn Age 65, on April 20th
You have the month of your birthday, April, as well as the three months prior to your birthday, and the three months following your birthday month. You may enroll as early as January 1st, and as late as July 31st.
You can enroll in person at your local Social Security office, or apply online at www.SSA.gov.  https://www.ssa.gov/benefits/medicare/
Clients still working past Age 65, with Employer Health Plan:
You can delay enrolling in Medicare Part B until you retire, and enroll in Part B at that point.
You are provided a special enrollment period when you retire, regardless of the time of year (no need to wait until the Annual Enrollment Period).
Instructions to locate the Medicare Enrollment Page on www.SSA.gov:  https://www.ssa.gov/benefits/medicare/
Click on the 'Menu' icon in the header, and then in the middle row, third line down, click on Medicare
At the bottom of the first paragraph, you find the blue box, and click on 'Apply for Medicare Only'.
Next will be a page where you have to agree to the terms at the bottom of the page.
Click on 'Start New Application' in the second grey box and you're on your way
Medicare will ask about your current health insurance, date and place of marriage(s), Military service, Employer details for the prior two years, and bank information.
This process will only take about 10 minutes.
You will receive your Medicare card in the U.S. Mail in about two weeks.
Your card will have your new Medicare number and effective dates for Part A and Part B, at that point, you can enroll in a Medicare Advantage plan or purchase a Medicare Supplement plan.
Avoid the late enrollment penalty by signing up for your Part D Drug Plan when you're first eligible as the penalty increases and will never go away. Part D Penalty Calculator
We do not offer every plan available in your area. Currently, we represent 0-6 organizations that offer 0-49 products in your area. Please contact Medicare.gov, 1-800-MEDICARE, or your local State Health Insurance Program (SHIP) to get information on all of your options.
The exact carrier and plan counts are determined by your zip code and county.